Young member profile: Darrah Teitel a rising star in Canadian theatre
Published April 23, 2019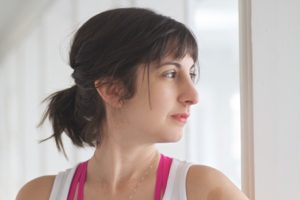 Playwright Darrah Teitel gives co-op living a good deal of credit for her artistic success.
"If I didn't have the option of living in this kind of community, I probably wouldn't be able to take the time and have the financial security to write," she said. "Having the support of the co-op behind me makes a difference."
Behavior is Teitel's most recent play, which just finished its run at the Great Canadian Theatre Company in Ottawa. Described by critics as engaging, important, and even hilarious at times, Behaviour, began as a few lines scribbled at a theatre retreat Teitel was attending. "I had the time and space to write the first few words for the play, and the artistic director for the GCTC happened to come by, and loved it," she explained. With encouragement and an opportunity to work as writer-in-residence at the GCTC, she was able to write the rest of the play, and Behaviour was born.
The play explores the effects of abuse on women. What if women started behaving appropriately to the trauma they've experienced? Would a workplace ever look the same again?
A member of Abiwin Co-op in Ottawa, Teitel has served a full term on the Board and does external relations work. She attended last year's CHF Canada AGM in Victoria and was the moderator of the Vision Panel where larger questions of housing sector security and affordability were discussed, particularly in regard to the younger generations.
Citing the lack of affordable, secure housing, particularly in larger centres, Teitel asserts that more co-op housing is needed. "I feel passionate about it," she said. "If people knew how good it was to live in a co-op, everyone would want to do it."
Along with writing critically acclaimed plays, Teitel works in advocacy and government relations for an NGO. Prior to that, she spent five years working on Parliament Hill, where the abuse and bullying she witnessed provided inspiration for Behaviour. Although the play's main character works in that very vulnerable government setting, Teitel is quick to stress that those experiences are not unique to that workplace. "The prevalence of rape and sexual abuse is not always obvious or acknowledged. If women started owning their experiences, and making those experiences problematic, professional society would cease to work as it does."
Her next play, The Omnibus Bill will be at Arts Court Theatre in Ottawa at the end of May.
---
Don't miss out on the latest co-op news, success stories, and helpful resources for your co-op. Sign up here to receive our eNews every two weeks straight to your inbox!