CHF Canada receives national Co-operative of the Year Award
Published June 14, 2023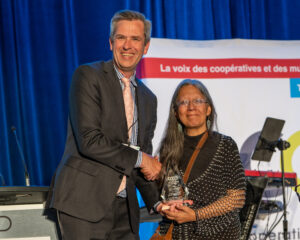 The national organization representing co-operatives, Co-operatives and Mutuals Canada (CMC), has recognized CHF Canada with its 2023 Large Co-operative of the Year Award. The award honors Canadian co‐operative organizations that have made significant contributions to co‐operatives in Canada and/or internationally.
CHF Canada President, Tina Stevens, and Associate Director of Public Affairs and Policy, Courtney Lockhart, accepted the award last night at CMC's Congress. This year's theme is Co-ops in the Future. It seems fitting to be recognized as we make strides toward our shared sector vision of Co-op Housing for All.
CMC released this short award video celebrating the work and accomplishments of CHF Canada.
"Thanks to the membership of CHF Canada, we exist to represent and serve them. This award is dedicated to our members." CHF Canada Executive Director Tim Ross
Congratulations to all of CHF Canada's members!
We can all take pride in knowing that the larger co-operative sector is taking note of our hard work and progress. What an inspiring honour to start off our own Annual Meeting!
---
Don't miss out on the latest co-op news, success stories, and helpful resources for your co-op. Sign up here to receive our eNews every two weeks straight to your inbox!