#HumansOfCoopHousing: Miriam is part of three generations of housing co-op members
Published August 14, 2020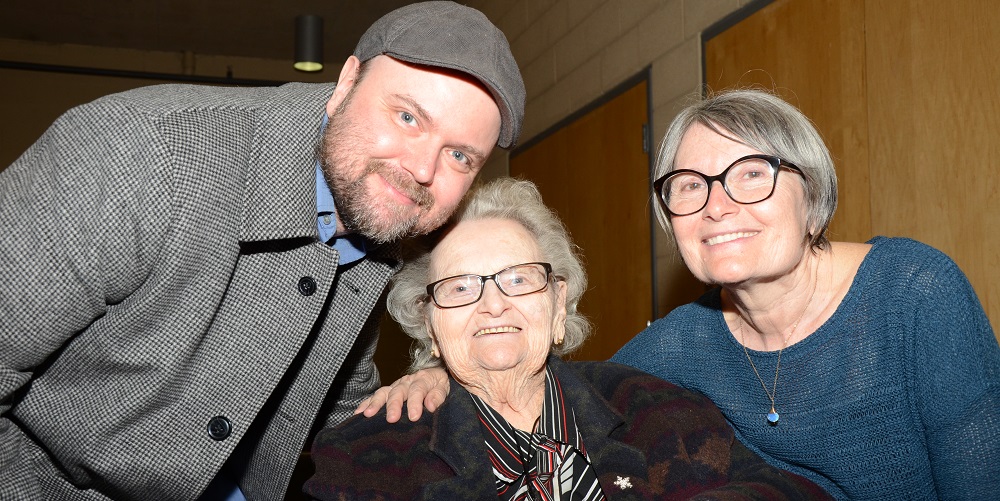 Miriam Wohl has been Promotions Co-ordinator at the Co-operative Housing Federation of Toronto (CHFT) since 1998. She has been involved in the co-operative housing movement for over 40 years, including time spent as a co-op member.
When I was a young mother in the late 70s, it was a struggle to find decent affordable housing in Toronto until I moved into Bain Co-op.
At the time, I worked at a vintage store in Kensington Market. When I walked down the street in my 1920s clothes with my two collie dogs, I'm sure I stuck out like a sore thumb.  But I felt completely accepted and at home in my co-op.  For the first time, I felt a sense of community.
I lived at Bain for 11 years, then at Harbour Channel Co-op another 10 years. Throughout my journey in co-op housing, I went from having a deep subsidy, to a shallow subsidy, to paying full market rent.
My story is a co-op success story, a story of how co-op housing empowers people and changes lives.
Although I now own a home, I'm the one who introduces neighbours to one another and brings people together. I also learned a lot from being on the board of my two co-ops and having the experience of helping to run a multi-million-dollar corporation.
I started at CHFT 32 years ago as receptionist, then managed the Co-op Housing Bookstore, then became office manager.  When CHFT was developing new co-ops, I marketed some of the units. For the past 22 years, I have co-ordinated and managed the Co-op Cost Cutters buying program for co-ops, which has several services that are national in scope.  It's been a phenomenal experience in which I get to solve problems for members and make sure they feel well-supported.   I will be turning 68 soon – but when I think of retiring, I feel torn because I simply love my job.
My mother and son both live in a co-op. My mother is 92 years old. Without the co-op, she would likely be in a long-term care facility.  In the co-op, she gets much love and support from her neighbours. Every time I visit, she is surrounded by a cluster of young handsome men, the centre of attention.  She is in her element.
For both my mother and son, co-op housing has provided safe, secure, affordable housing from which to live better lives.   Safe, secure and affordable housing is a right.  It should be available to all who need it.
My story is a co-op success story, a story of how co-op housing empowers people and changes lives.  Here I am, 41 years after I moved my son and I into our first co-op, still championing our sector – because it works. I am incredibly proud to have lived in co-op housing, worked in the sector and paid forward the goodwill and support I received along the way.
Throughout 2020, our Humans of Co-op Housing series will feature individuals who are making their co-ops a better place or speaking up for the importance of co-op housing. Let us know at info@chfcanada.coop who you'd like to see featured next.
---
Don't miss out on the latest co-op news, success stories, and helpful resources for your co-op. Sign up here to receive our eNews every two weeks straight to your inbox!