Young Member Profile: Sarah Jensen
Published April 16, 2018
Growing up in Castlegreen Housing Co-operative, Sarah Jensen can't remember a time before she started volunteering. At 7, she was sweeping up after community events. At 14, she became the co-op's Community Garden Coordinator. And at 18, she became the youngest person ever to join her co-op's Board of Directors.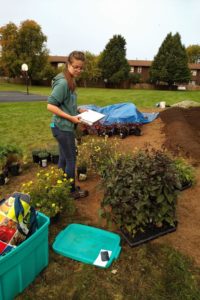 She credits her involvement to the support and mentorship of her fellow co-op members: "I've felt the support of my community more times than I can count, and I honestly believe that the aspect of encouragement and belief in other people is one of the most amazing things about cooperatives."
In order to help other youth get involved like she has, she also created a Youth Committee at Castlegreen. "Sarah continues to recruit youth in our community and encourages many to become engaged in our co-operative. We are very happy to have Sarah a part of Castlegreen Co-op and strongly support all of her efforts," says Sharon McKinnon, Castlegreen's General Manager.
Castlegreen is a 215-unit townhouse-style co-op in Thunder Bay, ON, which features a community centre, basketball court, ice rink, arboretum, computer lab, community garden, and a pick-up point for the Good Food Box Program. The co-op publishes a monthly newsletter and often brings members together for activities ranging from pancake breakfasts to clothing swaps.
After getting started volunteering in her co-op, Sarah started to get involved in the wider co-op movement. After attending the Ontario Cooperative Association's Co-operative Young Leaders program (CYL), Sarah began volunteering with the Northwestern Ontario regional manager for On Co-op. She has been managing the regional Facebook page, as well as speaking at high schools about co-ops, and attending local co-op business seminars and conferences.
It's clear that by nurturing Sarah's leadership abilities and sense of community, Castlegreen Housing Co-op has developed a lifelong co-op advocate in Sarah Jensen.
As she puts it, "I don't think anything can be more special than the place your co-op takes in your heart."
---
Don't miss out on the latest co-op news, success stories, and helpful resources for your co-op. Sign up here to receive our eNews every two weeks straight to your inbox!