Waterloo Recognizes Two Local Co-op Champions: Carine Nind and Ann Smith
Published January 12, 2023
Co-operative housing took center stage at the Region of Waterloo's "Building Communities Together" event in recognition of National Housing Day on November 22. Carine Nind, manager at Willowside Housing Co-operative in Kitchener, received the Lynn Macaulay Award for Outstanding Housing Educator, and Ann Smith, a member at the same co-op, spoke passionately about her lived experience.
Carine Nind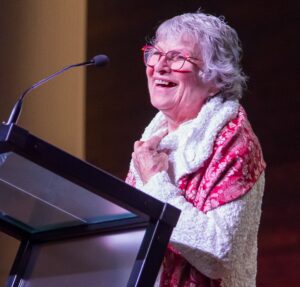 Carine has been the general manager at Willowside Housing Co-operative for 20 years, and has been an outspoken advocate for co-op housing and initiatives to reduce experiences of homelessness. "In 2000, the first homelessness report came out in the Waterloo Region. I immediately thought, 'What are we going to do about this?'"
Through chairing a homelessness network, Carine met Lynn Macaulay, who led numerous community initiatives to create affordable housing in the Waterloo region. Lynn was, in Carine's words, "a homelessness champion."
In 2019, Carine accepted the Christine Wilson Award for over 30 years of activism on housing. On receiving the Lynn Macaulay award, she said, "I was humbled to have my name put forward again. To think that I passed the baton to Lynn so many years ago, and to have been part of the resource group that developed Willowside. It feels like things have come full circle."
Carine moved into a co-op in 1986 with her two children. "I was smitten by the idea that you have input into creating a safe space," she said.
Ann Smith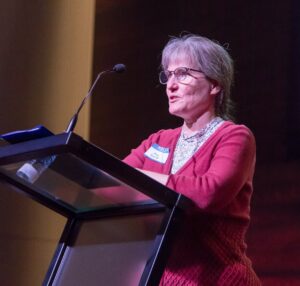 Ann knows the importance of safe spaces. In 2011, she moved into a women's shelter. "It was an amazing place," she said. "They helped me get on the housing list, and Willowside was the first place that became available. One of the first things I learned is that we're called 'members', not 'tenants'. I knew I belonged to something."
Ann joined the board, and dove into learning about the general business of a co-op. That learning included understanding budgets, financial statements, and even snow clearing contracts.
"All of that helps us as board members to better support the manager and serve the members," she said.
Most inspiring for Ann was her deep dive into community connection. "A lot of us who have lived in community housing have not had a lot of say in our lives, and co-operative housing gives us a chance to have a say."
Awards well deserved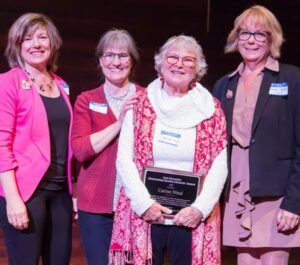 Peter Gesiarz, CHF Canada's Ontario Regional Manager, was at the event to present initiatives CHF Canada is taking towards the vision of Co-op Housing for All. "Carine has worked for a long time in the co-op sector and is very active in the community," he said. "This award is well-deserved, and acknowledges her many contributions."
He found Ann's speech very moving. "I think it touched a lot of people. She highlighted the importance of empowerment and self-determination."
Both Carine and Ann look towards the future optimistically. "We need to continue to raise awareness of the value of co-op housing," said Carine. "Children who have stability do better, and co-ops provide that. My hope is that co-ops reaching the end of their mortgages are able to get the best agreement possible with their municipalities, and that we continue to have the necessary supports to provide housing to people who have challenges."
Ann agrees. She particularly wants to see her co-op expand on initiatives around aging in place. "The same issues exist everywhere," she said. "But people don't necessarily care the same way they do here. Some members have challenges, but in the end, we want everyone to have a home."
---
Don't miss out on the latest co-op news, success stories, and helpful resources for your co-op. Sign up here to receive our eNews every two weeks straight to your inbox!