Homestarts commits to sustained donations to Diversity Scholarships and Rooftops Canada
Published July 16, 2018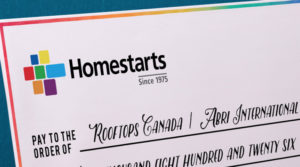 Homestarts has set a great example for the co-op housing sector by committing to generous, long-term annual charitable contributions to both Rooftops Canada and Diversity Scholarships.
Founded in 1975, Homestarts is a community-based non-profit offering a comprehensive range of services to Ontario housing co-ops including management, maintenance and development. It is the largest such organization in Ontario with close to 175 staff. In 2016, its volunteer board decided to give $5,000 to Rooftops Canada each year going forward for a minimum of three years. This was in addition to Homestarts' substantial ongoing contributions to the Diversity Scholarship program operated by CHFT and other Ontario federations.
Homestarts Executive Director Paul Hastie says a huge part of their mandate is "a deep and close connection with the co-operative housing sector" and close involvement with CHF Canada and the co-op housing federations in Ontario.
Diversity Scholarships recognize and support young people living in housing co-ops who are actively promoting diversity in their community. He says that supporting Diversity Scholarships is a great way for organizations to advertise their products and services.
Rooftops Canada is the international development program of co-operative and social housing organizations in Canada. Paul, who also serves on the Rooftops Canada board, says it is "a worthy place to make donations and support the international efforts of the co-op housing movement."
Paul suggests that profitable companies can reduce their taxable income by donating to the sector's charitable initiatives. "Our sector has been doing charitable work for decades incredibly successfully. Having created that legacy, we need to maintain it, and everyone who works in the co-op housing space needs to be part of maintaining it!"
---
Don't miss out on the latest co-op news, success stories, and helpful resources for your co-op. Sign up here to receive our eNews every two weeks straight to your inbox!