#HumansOfCoopHousing: Kerry says co-ops can help solve "the disease of loneliness"
Published June 17, 2020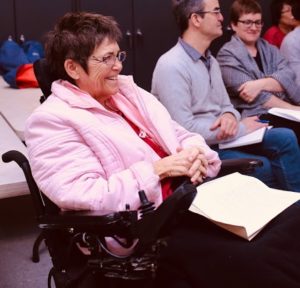 Kerry Palframan has lived at Co-op Voisins in Ottawa for two years. Neighbours say she is breathing new life into the co-op's welcoming committee and is "one of those people you're always delighted to see".
"Before I lived at Co-op Voisins, I was in an apartment for seniors (although I'm only 58) and there was no interaction amongst the tenants – a very lonely experience.
I think the concept of co-op living is brilliant and wish it was more prevalent in our society.
The co-op is purpose-driven and gives everyone an opportunity to participate in tasks, boards, committees and just generally helping each other.
It feels good to be of service to each other and in the community.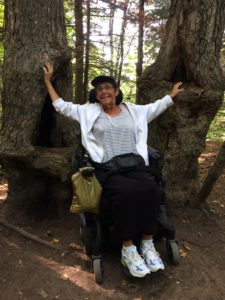 I am wheelchair bound and getting out, especially in winter, is challenging. The co-op helps me experience community despite being (mostly) homebound. We have lots of gatherings and a big backyard in which to socialize.
In the greater community, I volunteer my time by picking up trash on the streets and in the parks, and I'm currently looking at volunteer positions at the local seniors' centre. In the co-op, I am on the welcoming, social and newsletter committees as well as being on the board of directors.
Living in a co-op is so much better than your average apartment dwelling or even living in a single-family home in the suburbs.  I've lived in 29 different housing situations and this one is by far the most unique and offers the most involved style of living.
If only we could all live in some sort of involved-community living, then I think the world would be a better place. Co-op living would go a long way to help solve the disease of loneliness. We need each other to not only survive but to thrive."
Throughout 2020, our Humans of Co-op Housing series will feature individuals who are making their co-ops a better place or speaking up for the importance of co-op housing. Let us know at info@chfcanada.coop who you'd like to see featured, whether it's a caring neighbour, an avid volunteer or someone who is helping secure the future of co-op housing.
---
Don't miss out on the latest co-op news, success stories, and helpful resources for your co-op. Sign up here to receive our eNews every two weeks straight to your inbox!