New CMHC funding streams: Greener Affordable Housing Program
Published June 20, 2023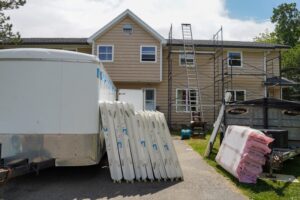 We're thrilled to announce CMHC's launch of the Canada Greener Affordable Housing Program, a funding initiative designed to support co-ops in their journey towards sustainability and energy efficiency.
There are two streams: the first is funding for activities preparing for a retrofit, and the second is for the retrofit work. They each have at least two windows of time when applications are accepted.
Your co-op can receive up to $130,000 in contributions for your pre-retrofit activities. This funding is intended to help you prepare for deep energy retrofits on your residential building(s). It covers activities such as assessing your building's energy performance and identifying necessary retrofits to meet deep energy retrofit targets.
Application time windows:
June 1, 2023, to June 30, 2023
November 1, 2023, to January 31, 2024
Act fast, as funds are limited for this fiscal year!
Your co-op can access low-interest, repayable and forgivable loans specifically for deep energy retrofits of multi-unit residential buildings. This program aims to enhance climate resilience and capability while achieving significant reductions in energy consumption and greenhouse gas emissions. CMHC will fund 100% of eligible retrofit costs, up to $170,000 per unit (repayable and forgivable loans combined). Forgivable loans will be the lesser of $85,000 per unit or eighty percent (80%) of eligible retrofit costs.
Deep energy retrofits include projects targeting:
70% reduction in energy consumption relative to pre-retrofit performance
80% reduction in greenhouse gas (GHG) emissions relative to pre-retrofit performance
Application time windows
June 1, 2023, to July 31, 2023
September 15, 2023, to December 15, 2023
To apply for Retrofit Funding, make sure you have completed the pre-retrofit activities, such as energy audits, modeling studies, and Building Condition Assessment reports. Approved forgivable loan funding must be claimed in the same fiscal year as approval, so plan your projects accordingly.
---
For both streams, if there are funds remaining after the initial review, CMHC may reopen the application portal on a first-come, first-served basis until the budget has been committed. Subsequent call-out windows will be open for 90 days.
Don't miss out on this incredible opportunity to make your co-op more sustainable and energy-efficient! Reach out to our Regional Energy Coach, Irfaan Hasham, today to start your application process. Let's build a greener future together!
Reach out now:
Irfaan Hasham, P.Eng, CEM, CMVP
Regional Energy Coach
416.366.2085
---
Don't miss out on the latest co-op news, success stories, and helpful resources for your co-op. Sign up here to receive our eNews every two weeks straight to your inbox!