Summer of Bliss: UK expert explores Canada's housing co-ops on cross-country tour
Published August 29, 2018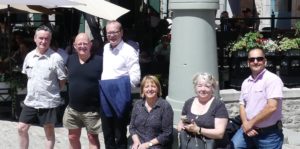 Housing co-ops in Canada are doing amazing things. With community land trusts, innovative funding models, housing geared to seniors and other groups with specific needs, and the many ways that co-ops support community and diversity, Canada's co-ops are something we want to show off to the world!
This spring and summer, Canada's housing co-ops hosted an international visitor who traveled across the country to scope out our movement for great community and business ideas to bring home.
Nic Bliss is the Head of Policy at the Confederation of Co-operative Housing, CHF Canada's British equivalent, and Bliss has long been connected to the worldwide co-operative sector.  His trip, funded by the Winston Churchill Memorial Trust, kicked off in Victoria, B.C., at CHF Canada's 50th anniversary Annual General Meeting.
While this was his first visit to Canada, visiting here was a natural choice. In both Canada in the UK, the average co-op is around 50 units and was developed in the 1970s or 1980s. British co-ops face many of the same challenges as Canadian co-ops: aging buildings, balancing governance with management, and the age-old question of how to encourage members to get involved.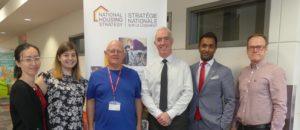 But there are lots of small, surprising differences. One thing that Bliss, who lives in a co-op in Birmingham, found surprising was that most British co-ops don't have common rooms because there wasn't program funding for them. He found that Canadian co-ops, which are more likely to have shared spaces, also have a friendlier culture.
So Bliss set off on a cross-country trek from Victoria, BC to Québec City. Along the way, he visited numerous co-ops, talked to many members, and managed to squeeze in a little bit of sightseeing too.
Traveling across Canada, Bliss found "Different environments – different approaches – but the same co-operative enterprise and community."
Inspiration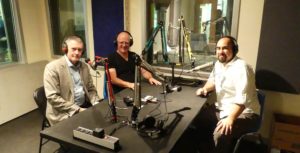 The biggest inspiration for Bliss was Vancouver's Community Land Trust, which is working to acquire, create and preserve affordable housing in Vancouver. The Land Trust is building more than 1,000 affordable homes to help address Vancouver's affordable housing crisis. Placing land in a Community Land Trust means removing that land permanently from the market, ensuring that the homes built there will remain affordable forever. Their innovative work is an example that Bliss will be taking home to England.
While Bliss was in Canada, the UK passed the Community Housing Fund, something his organization had long pushed for. Like Canada's National Housing Strategy, it will offer much-needed funding to a sector that was long without the means to develop more homes.
Housing co-operatives in the UK face the same issue as in Canada: since so little development happened for so long, there aren't as many people with the skills to develop more housing. The CCH has developed a training and accreditation program for people wanting to develop housing. The need for affordable housing is deep, but many young people in the UK, as in Canada, want to help and get involved.
In the UK as well as in Canada, co-ops are among the leaders in building innovative and sustainable communities. One British co-op that Bliss points to as an example is Low Impact Living Affordable Community (LILAC) in Leeds, which was built with sustainable building methods and is managed through a Mutual Home Ownership Society, an innovative financial model that ensures permanent affordability.
Inequality
However, Bliss also had the opportunity to learn about some of the more shameful aspects of Canada's history and culture, such as the residential school system and its ongoing impact on First Nations, Inuit, and Métis people. Hearing Margaret Pfoh of the Aboriginal Housing Management Association and Chief Edward Thomas of the Esquimalt Nation speak at CHF Canada's AGM gave him a sense of the profound housing needs that Indigenous people in Canada face.
After the Grenfell Fire in London, British housing advocates also face difficult conversations about how to meet the housing needs of the most marginalized people, and the deadly consequences of putting profit before people's need for safe homes.
Seeing the sights
Along the way, Bliss crashed a Toronto co-op's Canada Day barbecue, joined the Co-operative Housing Association of Eastern Ontario's breakneck bus tour of 38 Ottawa co-ops, and looked out on the St. Lawrence River and the fortifications of Old Québec from the rooftop patio of the Co-opérative d'habitation La Grand'Voile, a Québec City co-op.
Canada is a huge country, and Bliss had a packed agenda, but he did his best to see the sights along the way. He sat in the co-pilot's seat in a float plane crossing the Strait of Georgia from Victoria to Vancouver, walked with wolves in BC, went camping, and saw a zydeco band play on Toronto Island.
All in all, it was a successful trip. As he put it: "My head is full of the incredibly warm welcome I have received from so many wonderful Canadian co-operators."
Nic Bliss is preparing a report based on his cross-Canada travels, which will be available soon via the Confederation of Co-operative Housing. You can also read the blog posts from his trip here.
---
Don't miss out on the latest co-op news, success stories, and helpful resources for your co-op. Sign up here to receive our eNews every two weeks straight to your inbox!