We're hiring: Senior Manager, Government Relations
Published April 11, 2023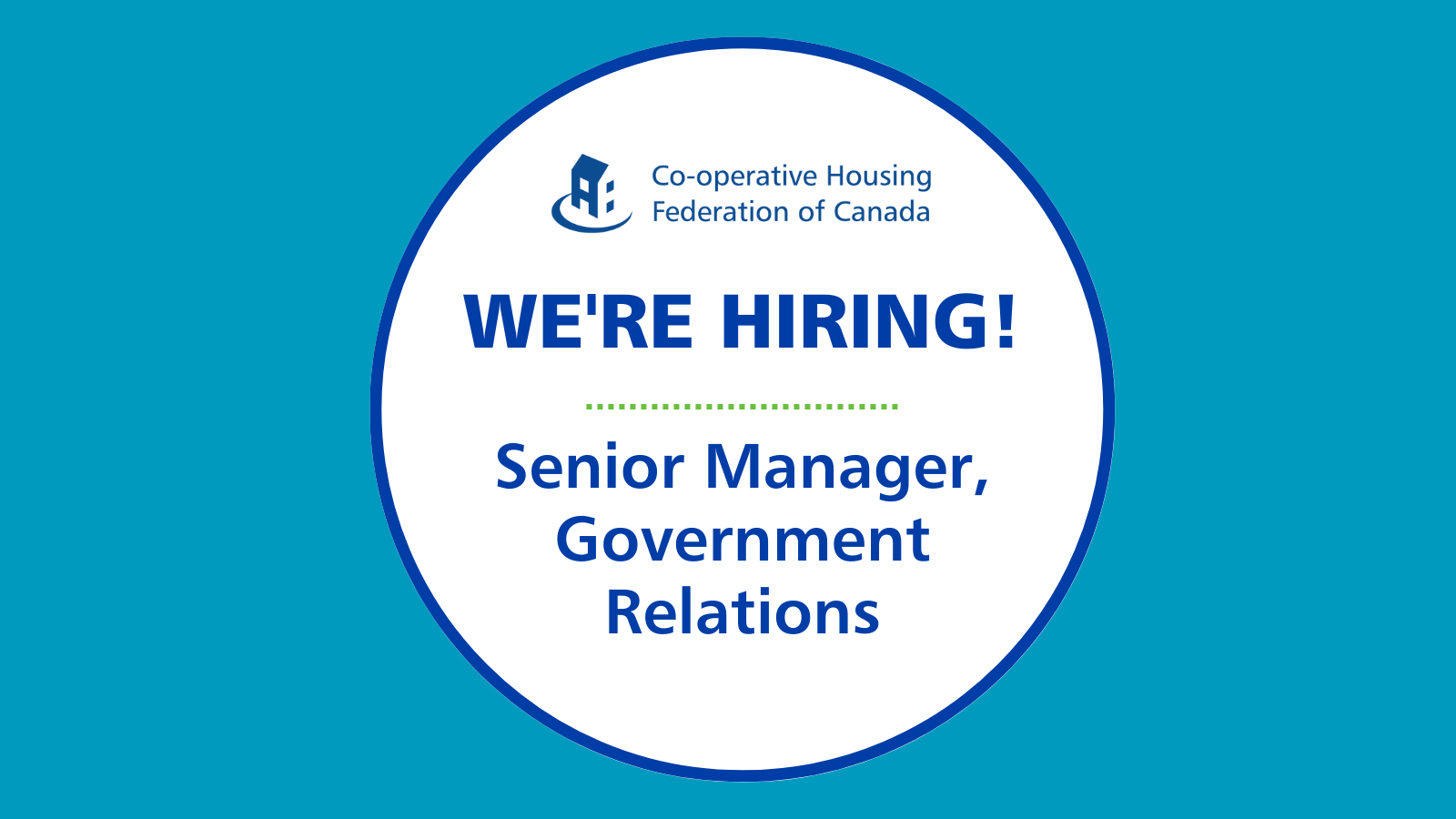 The Co-operative Housing Federation of Canada is recruiting for a full time (35 hours per week), temporary position of Senior Manager, Government Relations. The position is based in Toronto (hybrid arrangement with work at home and in the Toronto office) for a 1 Year Term starting June 15 or July 1, 2023.
Reporting initially to the Associate Director, Public Affairs and Policy, the Manager will be responsible for managing and delivering CHF Canada's government relations program in support of the growth and sustainability of the co-operative housing movement in Canada. The Manager will represent housing co-operatives in dealings with municipalities, Ontario, other provincial and federal governments on legislation, regulations and programs. The Manager plays a central role in policy research and analysis, and plans and directs grassroots lobbying campaigns of members in order to defend and promote the interests of housing co-operatives.
What we're looking for:
A university degree in public policy, political science, communications or a related subject. Master's degree or equivalent experience preferred.
More than 5 years of experience in the areas of policy development, communications and government relations.
Demonstrated commitment to the growth and development of the non-profit co-operative housing movement in Canada.
Thorough knowledge of housing policy at the regional, provincial and federal level and of the operation and management of housing co-operatives.
Broad knowledge of government policy process and experience dealing with government officials.
High level of capability in the areas of analytical, research and problem solving skills.
Ability to work collaboratively with a wide variety of stakeholders.
Excellent oral and written communication skills.
Excellent political organizing skills.
Time management skills and the ability to set priorities.
Ability to work independently and as part of a team.
High degree of professionalism and ability to respond effectively in political and media interactions.
Bilingualism (French/English) is an asset.
CHF Canada is committed to building and retaining a diverse, equitable, and inclusive working environment.  In selecting candidates for this position, additional weight may be given to recognize diverse backgrounds and experiences, especially from underrepresented groups among CHF Canada's current staff and management composition. CHF invites candidates to self-identify relevant experiences or background information that supports this organizational objective.
How to Apply: 
Please submit your resume and cover letter to talent@chfcanada.coop with the subject line: CHF Canada – Senior Manager, Government Relations (Temporary Contract)
Starting salary: $100,441
Application Deadline:  5:00 p.m. EST, May 1, 2023
Co-operative Housing Federation (CHF) of Canada thanks all applicants, however, only those selected for an interview will be contacted. CHF is a respectful, caring, and inclusive workplace. CHF Canada is an equal opportunity employer and committed to championing accessibility, diversity and equal opportunity and welcomes all applicants including but not limited to: all religions and ethnicities, LGBTQ2s+, BIPOC, persons with disabilities and all others who may contribute to the further diversification of ideas. Requests for accommodation can be made at any stage of the recruitment process providing the applicant has met the Bona-fide requirements for the open position. Applicants need to make their requirements known when contacted.
CHF Canada is proud to have been recognized for the third year in a row as one of the National Capital Region Top Employers.
---
Don't miss out on the latest co-op news, success stories, and helpful resources for your co-op. Sign up here to receive our eNews every two weeks straight to your inbox!