#HumansOfCoopHousing: Sara started with a kids' committee, now she's a co-op president, and works and advocates in the sector
Published March 24, 2021
Sara Maharajh is the president of Cliffside Court Housing Co-operative in Scarborough, ON, and is a business relationship manager at Cusource, the education and development arm of the Canadian Credit Union Association. She's been celebrated as a Co-operative Champion, and has guest lectured on the co-op business model. 
Looking back, the most important thing about co-op living for me was other kids. We moved into Windmill Line Co-op, and almost immediately a group of girls my age came knocking. We created a kids' committee and that was the beginning of my community activism.
Then, during the Harris cutbacks, when I was about twelve, my mother took me to a protest where I was holding a sign that said, "Mike Harris, please don't take our homes!" CBC interviewed me about why I felt co-op housing was important.
The most influential event, though, was the Young Leadership Camp my co-op sponsored me to attend. I'm still carrying the things I learned at that camp, and I'm so grateful I had that opportunity. I think it's important that co-ops realize the impact these camps have on young people.
I moved into Cliffside with my son in 2019. During this pandemic, housing co-ops have supported members. Cliffside provided food support to those who needed it, and on Saturdays in December the social committee left a new art project at the door of every unit with children, something to put up in the windows, and also made sure every child received a Christmas gift. That caring spirit is the foundation of a housing co-op.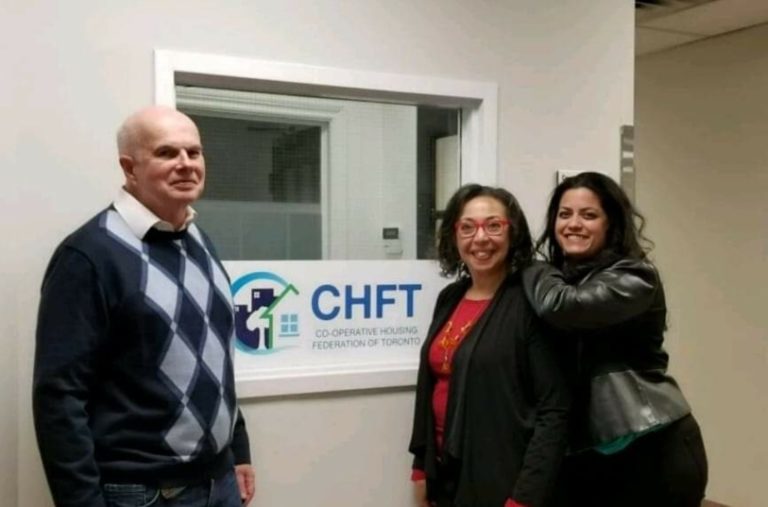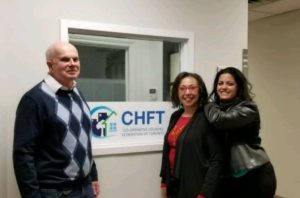 Our youth are the future of the co-op sector. I sit on the selection committee for the CHF Toronto Diversity Scholarship, and it's inspiring to hear the stories of youth who are making such a difference in their communities. These scholarships are vital because education's not cheap, and these young people create and bridge gaps between government and co-op housing as they move into their chosen fields. They're a key factor in the sustainability of the movement.
My lobbying efforts focus on including the co-op business model as a viable and sustainable business option, because it's not always taught in business schools. People think they know what a community is – they can give you a definition – but a lot of people don't know what it feels like, the relationships that are cultivated. It's a privilege I've had that many don't.
Our Humans of Co-op Housing series features individuals who are making their co-ops a better place or speaking up for the importance of co-op housing. Let us know at info@chfcanada.coop who you'd like to see featured next.
---
Don't miss out on the latest co-op news, success stories, and helpful resources for your co-op. Sign up here to receive our eNews every two weeks straight to your inbox!