Castlegreen Co-op in Thunder Bay to save $72,000 annually while keeping homes in good repair with repairs and upgrades
Published August 19, 2021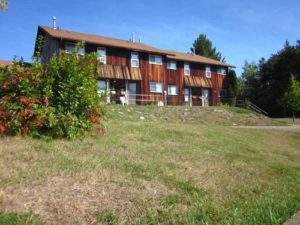 With a new $10.7 million mortgage finalized in June, Castlegreen Co-op in Thunder Bay, Ontario will spend $7.2 million to repair and modernize its 215 homes.
Along with other work, the co-op will replace its siding and insulation and add new high efficiency gas furnaces. Members will see big savings on heating costs.
Working closely with the co-op, CHF Canada's Asset and Financial Planning Services team analyzed Castlegreen's financial future and handled negotiations with CMHC and the co-op's new lender, First National Financial.
A long history of co-operation
Castlegreen is one of Canada's very first housing co-operatives, incorporated in 1974. It was built in two phases: 161 homes in 1976 and 44 units three years later. All were built under the federal Section 61 program, using 50-year mortgages at high fixed interest rates. In June, the co-op paid off two high interest mortgages, one at 8% and the other at 11%.
Photos from Castlegreen's opening
The co-op's big challenge was to reach an agreement with the City of Thunder Bay to extend the land lease on its 11-acre property. "We took the city on a journey they had never been on before," says Stacey Livitski, Castlegreen's vice president.
"The co-op first got interested in refinancing when we received a letter from CMHC telling us that our current mortgages could be prepaid without penalty," says veteran manager Sharon Carolan-McKinnon. "When CHF Canada persuaded the government to agree that subsidies would be continued until the normal expiry of our operating agreement, the board decided to check out the details."
With its updated building condition assessment in hand, the co-op invited CHF Canada to prepare a detailed asset management plan and proposal for refinancing. In November 2019, the co-op's members approved the plan and agreed to move forward.
"Our members could very easily see that the building exteriors needed repair," says Suzanne Squier, Castlegreen's president. "When CHF Canada's analysis showed us that we could afford to fix it, we had no problems."
A renegotiated mortgage, thanks to teamwork
The first step for the co-op was to seek approval from the City of Thunder Bay to extend the land lease until 2056, to accommodate the longer repayment period for the new mortgage. By April 2020, the city had agreed in principle to extend the lease.
We are all proud that we are breathing new life into our 40-year-old buildings, making sure they are in good repair for years to come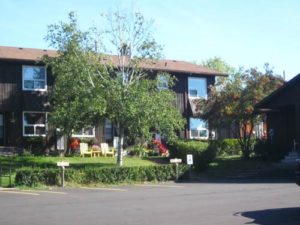 As the land lease negotiations continued, CHF Canada took on the relationship with CMHC. CHF Canada successfully negotiated extensions to the co-op's eligibility period for penalty-free mortgage prepayment.
"One of our big jobs was to help CMHC and First National stay confident that the co-op's determination would see this through," says CHF Canada's Dave Howard, Program Manager, Financial Planning Services.
Suzanne Squier credits Castlegreen's members. "They have been onside and supportive during the entire process, which went on for a long time. I can't wait for the upgrades to start so that everyone can see what we worked hard to accomplish."
With its new interest rate at a much lower 3.33%, Castlegreen's annual mortgage payment has dropped more than $72,000. These savings will also help keep the property in great shape for the future.
The co-op has already hired a project manager, and work will start this summer and fall.
Both Suzanne Squier and Stacey Livitski underline the value of their manager's dedication and commitment, agreeing that she made sure that the co-op's responses to the many questions from the lawyers, lender, CMHC and the city were quickly and accurately answered.
"We are all proud that we are breathing new life into our 40-year-old buildings, making sure they are in good repair for years to come," says Stacey.
---
Don't miss out on the latest co-op news, success stories, and helpful resources for your co-op. Sign up here to receive our eNews every two weeks straight to your inbox!