Details: proposed regulation changes for RGI calculations
Published May 29, 2019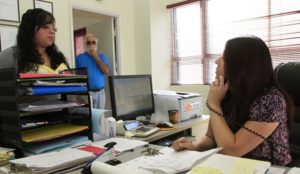 The Community Housing Renewal Strategy contains some good news about rent-geared-to-income (RGI) calculations.
Every year, co-op members who receive a rent-geared-to-income subsidy go through a complex process to prove their eligibility to continue to receive it. And every year, co-op staff spend a lot of precious time processing and reporting on each subsidy.
Under the Strategy, the proposed changes mean RGI will be based on a simple calculation from income reported on a tax return, beginning July 1, 2021.
Here are some pertinent details:
RGI calculations: what remains the same
will still be calculated annually on the basis of 30% of a household's total income
for members receiving social benefits and whose monthly non-benefit income is under the prescribed limits, housing charges will still be determined by the existing "rent scales"
members still have to report on certain changes to their household:

a permanent change in household composition
a member of the household that begins or stops receiving social assistance
a member of the household that begins or stops being a full-time student
RGI calculations: what changes
Household income:to be defined by line 236 (Adjusted Family Net Income) of Canada Revenue Agency's Notice of Assessment
Housing charge calculations:

30% of the Adjusted Family Net Income
divided by 12 months
modified for monthly utility charges or allowances

Employment deduction, If applicable: $1,800 per year, applied to the Adjusted Family Net Income
Student income: exempt from housing charge calculations if student is full-time at a recognized educational institution
Imputed income: not included in RGI calculations for non-interest bearing assets (e.g., art, RESPs, RRSPs)
In-year increases to income: do not need to report and will not change current housing charges, unless the household was subject to a tax reassessment
20% or more income decrease: can request a RGI re-calculation, once every fiscal year
Exceptions to annual calculations: For some members, like seniors on fixed incomes, Service Managers would be allowed to forgo annual calculations (e.g. verify income every other year)
Other proposed changes to the RGI program:
Minimum rent: will be in effect July 1, 2021, and it will be adjusted annually by provincial rent guidelines
Eligibility: will not be eligible to return to an RGI subsidy after paying market rate housing charges for 24 months in a row
Income tax return: Households will have to file their income tax every year by the appropriate deadline, or lose their eligibility for subsidy, subject to Service Manager discretion
---
Don't miss out on the latest co-op news, success stories, and helpful resources for your co-op. Sign up here to receive our eNews every two weeks straight to your inbox!