Learn how we can make our vision of Co-op Housing for All a reality
Published April 06, 2023
To help co-ops explore the 2023 Annual Meeting theme of Co-op Housing for All, we are offering workshops in both the Member Education Forum and the Co-operative Management Conference.
Co-op Housing for All is a vision adopted by delegates at CHF Canada's 2018 Annual Meeting. What makes the vision exciting is that we are not alone: the co-op housing sector is united and working together to sustain and grow co-op housing across Canada.
Want to learn more about how to make Co-op Housing for All a reality and find  something practical that you can bring home to your co-op? Let's explore two of the workshops being offered.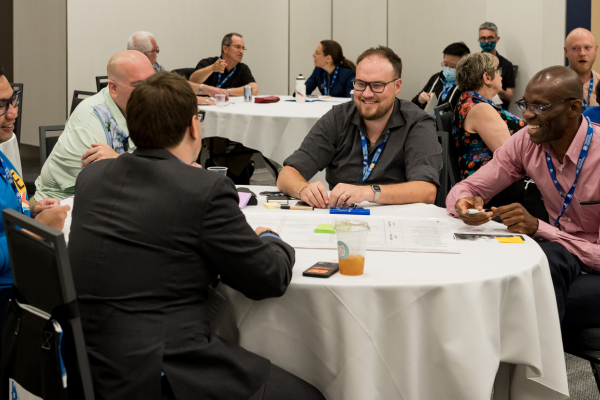 Co-op Housing for All speed networking
Co-op Housing for All speed networking will be facilitated by Maria Vaiaso,  the Prairies Regional Manager. Maria says that what excites her about Co-op Housing for All is that it's not just about development.
"This is about our roots and our future! It gives us the opportunity to dive into what we have in common, to hold onto what's vital, to consider what doesn't serve us now, and explore options for new approaches."
This workshop will bring together a group from the Peer Network. These are a variety of leaders who, without any blueprint to guide them, forged new ways of sustaining and growing their co-op communities. Like a speed dating event, small groups will move from person to person to hear their stories and make connections. 
Maria says you can expect to be surprised and inspired, but with a good grounding in realistic expectations. "Bringing these changemakers together – that's the room I want to be in!"  Us, too, Maria – us, too!
Tools for co-op housing development
CHF Canada and Cahdco present tools for co-op housing development will be facilitated by Jessica Bundy, CHF Canada's Co-operative Housing Development Co-ordinator, and Graeme Hussey and Paige Waldock from Cahdco, the development corporation of Centretown Citizens Ottawa Corporation (CCOC).
Jessica says it's exciting to talk about development with members, but even more exciting to have members across Canada together to grow the vision. 
"There's still so much room for members to be brought into the vision, to make it a reality. Sometimes you don't know what's possible until you hear what another co-op is doing."
Co-facilitating with Cahdco is a natural outcome of the work CHF Canada and our sector does collaborating with other organizations. Cahdco is a good fit, because they have a larger capacity, and are focused on supporting non-profit organizations who want to build affordable homes. They have created a toolbox, and are making their resources available for CHF Canada members.
Jessica is thrilled to present with Graeme and Paige from Cahdco. "It is so great to have more people at the table to help the co-op housing sector grow!"
Make the most of your time at the Annual Meeting this year, and select a workshop that helps make your co-op a part of the vision. Read the workshop descriptions to find out more about these six sessions linked to our vision of Co-op Housing for All:
Development through partnerships panel (

A01/P13)

So you think you can build: how ready is your co-op to add more units? (

A08) 

CHF Canada and Cahdco present: tools for co-op housing development (

B08)

Co-op Housing For All – speed networking (

B10)

Funding showcase panel (

C01/P33)

Growth through unification panel (C09)

---
Don't miss out on the latest co-op news, success stories, and helpful resources for your co-op. Sign up here to receive our eNews every two weeks straight to your inbox!